Playing Chess Against The Master
February 6th, 2021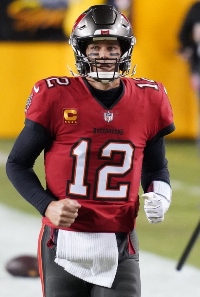 One reason the Chiefs are in the Super Bowl is that despite not having a dominant defense, they can outsmart an opposing offense.
Defenses that do that tend to make plays or trick an opposing quarterback into making a mistake. It's hard to trick a savvy veteran who has seen it all like park-violating, home-invading, NFLPA-ignoring, down-forgetting, handshake-stiffing, jet-ski-losing, biscuit-baking Bucs quarterback Tom Brady.
In the BSPN video below, NFL Films analyst Greg Cosell demonstrates just how complex and tricky Chiefs defensive coordinator Steve Spagnuolo gets when trying to disguise his blitz packages.
In particular, Cosell used a clip from the Chiefs-Bucs game in November to show how Spagnuolo tried to hoodwink Brady on a particular play.
It didn't work.
Let's hope Spagnuolo tries a few more like this against Brady tomorrow night. With the same results for the Bucs.
A key piece to winning Super Bowl 55 will be if @TomBrady and the @Buccaneers can consistently spot and win against the @Chiefs multiple blitz concepts. @gregcosell explains. pic.twitter.com/iB2z7iJu33

— NFL Matchup on ESPN (@NFLMatchup) February 6, 2021