"Make It A Living Hell For Him"
February 10th, 2021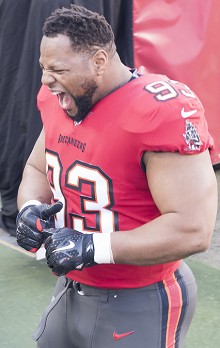 Unless it's a Super Bowl, the Bucs won't play the Chiefs again until 2024, so why not share the Super Bowl game plan with the world.
Beastly future Hall of Fame defensive tackle Ndamukong Suh visited ESPN's Stay In Bed show this week and was asked to explain the plan against Patrick Mahomes.
Simple, Suh said, Mahomes likes to roll/escape right so the Bucs wanted him to do the opposite.
"Our whole goal was to move him to his left and make him just really run and get him down to the ground," said Suh, with an ultimate goal to "make it a living hell for him."
Suh lamented allowing some good rushes by the Chiefs, but that was more about the great pride Suh takes in anchoring the NFL's No. 1 rush defense for the past two years.
"Ultimately, we executed what Coach Bowles wanted," Suh said, adding that the Bucs got "tons of pressures" and played a complete four-quarter game.
What a Super Bowl it was for Suh and, yeah, Joe called him a Hall of Famer. The five-time Pro Bowler has had a unique and versatile 11-year career, thriving with multiple teams in various defenses and racking up impressive numbers at his position.
And after reaching the Super Bowl with the Rams, now Suh has the ultimate prize in his pewter and red uniform.