Leonard Fournette Makes Playoff History
February 9th, 2021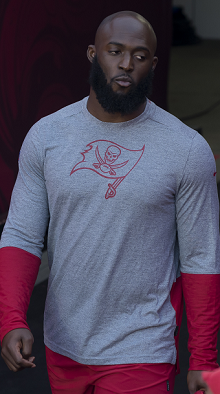 Only once in a while does a Wild Card weekend team make the Super Bowl.
The path, obviously, is more difficult. You must win three postseason games to earn a trip to the big game.
The Bucs made that run this season and in all four games, Leonard Fournette scored a touchdown. "Playoff Lenny" will forever live in Bucs lore. But he's also now in the NFL history books with big names.
Per CBS Sports HQ, only Larry Fitzgerald (2008) and Terrell Davis (1997) have a four-game-playoff run of touchdowns.
Fournette is damn happy about it and is still thinking about the detractors that claimed he wasn't a team-first winner.
This year I've joined some elite company can't thank nobody but God for that….. they try to drag my name through the mud but I came out clean….. https://t.co/eSOvAblPYQ

— 7⃣ Leonard Fournette (@_fournette) February 9, 2021