Jason Licht's Battle Royale
February 26th, 2021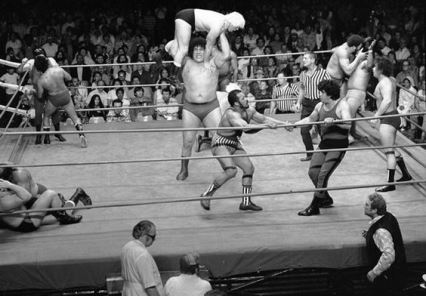 Joe does not envy Bucs AC/DC-loving general manager Jason Licht for the next month or so.
Upon reading a list compiled by The33rdTeam.com, a football thinktank launched by former Jets and Dolphins general manager and current BSPN talking head Mike Tannenbaum, Joe immediately felt sorry for Licht.
It seems most Bucs free agents, in particular, five of the Big 8, are the most coveted players at their respective positions. In other words, Licht is likely in for many fights with his NFL colleagues in trying to keep the Big 8, which he and Super Bowl-winning Bucs coach Bucco Bruce Arians have stated is their offseason goal.
Joe sort of pictured Licht as Andre the Giant in a battle royale, fighting off the likes of Nature Boy Ric Flair, Harley Race, Macho Man Savage, Rowdy Roddy Piper, George "The Animal" Steele and The Undertaker, among others.
Tannenbaum's outfit has the following Bucs free agents ranked:
Linebackers (no specific designation): No. 1 Shaq Barrett, No. 4 Lavonte David.
Defensive tackles: No. 4 Ndamukong Suh.
Wide receivers: No. 2 Chris Godwin.
Tight end: No. 4 Rob Gronkowski.
Interestingly, neither Playoff Lenny nor furniture-tossing, bicycle-throwing Antonio Brown are listed. And there is no rankings for kickers, so you won't find Ryan Succop on the list.
So Licht might spend much of his time winging fellow general managers over the top rope in an effort to keep them away from his targeted Big 8, if he can't sign them before the free agency bell rings next in a few weeks.
Will Licht be the last man standing? It would be a helluva feat to pull off.