Devin White Explains "Unselfish" Vita Vea
February 2nd, 2021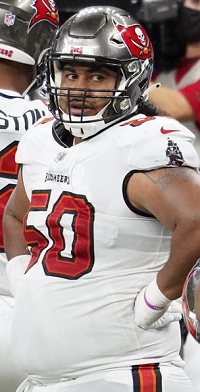 VEE-tuh, VEE-tuh, VEE-tuh!!
Devin White is one hell of a Vita Vea fan, and he explained why yesterday in his typical high-energy style with Xs and Os chatter mixed in.
"Man, he does a lot for us, man, he's a guy that's not selfish," White said of Vea on SiriusXM NFL Radio. "When he got two guys on him, he know how to hold them down. And when he's one-on-one [in the run game], he know how to pick a side. You know, he don't do a lot of peeking; he gonna commit to a gap where you can play off of.

And the thing that he don't get a lot of credit for is what he do in the passing game. He's always pushing the pocket. If you go watch the game, the center would be sitting right in front of the quarterback, and that helps the guys on the outside, you know, be able to rush better because everybody taking lanes rather than him getting pushed out of there or getting moved around or getting no push and the pocket just being clean. I'm so happy to have him back. That's my counter partner; that's my guy."
Great stuff from White.
Yeah, Vea is an irreplaceable mountain of a man at 6-4, 350 pounds with a ton of athleticism.
After a surprising and impressive 33 snaps in Green Bay coming off a broken ankle, Joe is totally fired up for what Vea might do against the Chiefs with two more weeks to get healthier.
Joe has a lingering feeling that Vea is going to dominate in ways he hasn't previously.
On an unrelated note, White mentioned that Vea is a shark when it comes to playing cards.