Chris Godwin Says He Believes Tom Brady Endorsed Him To Management
February 25th, 2021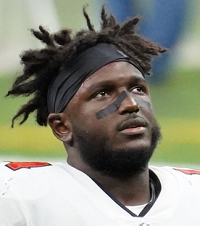 Some believe Tom Brady wields a heavy hammer when it comes to personnel decisions at One Buc Palace.
And general manager Jason Licht confirmed that to a point yesterday during a news conference. When Brady speaks, Licht listens.
"I would say Bruce and I both talk to Tom. Why wouldn't you, with the résumé that he has?" Licht said.
On The Rich Eisen Show yesterday, Pro Bowl receiver Chris Godwin was asked about his pending free agent status and whether he believes Brady has told the bosses they must bring back Godwin for a fifth Tampa Bay season.
Godwin laughed and replied. "I would imagine that there's been conversations like that, you know. Everybody has so much respect for each other. We all have such a great working relationship that I don't know if there's much lobbying that needs to happen at this point."
So there you have it. It was humble Godwin's way of saying Brady took care of me. Godwin added how much he loves playing Tampa, but he also said all his decisions — and the Bucs decisions — will be business decisions and not personal.