Chris Godwin Notes "Hoping" Vs. "Expecting"
February 16th, 2021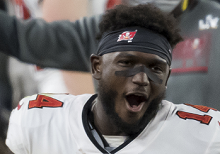 Jalen Rose knows all about the Fab Five, and in the Bucs' case, their Fab Five of pass catchers are more impressive that whatever that old school Michigan hoops team delivered.
Pro Bowl stud receiver Chris Godwin talked to Rose about greatness recently on BSPN TV.
Of course, whenever a Buccaneer does a national interview, Tom Brady is a popular subject.
That was the case for Godwin, who explained the biggest change Brady brought the Bucs was confidence lacking in 2019. That's when America's Quarterback, Jameis Winston, was in command of the offense.
Godwin said the Bucs went from "hoping" they would win each game to "expecting" to win. "And that started to trickle down [the roster] as the season progressed," he added.
As for shots of confidence, Godwin talked about the now legendary Brady texts that pumped up his guys daily leading up to the Super Bowl. Per Godwin, those texts continued until about 9:30 a.m. on Super Bowl morning, when Brady sent a tip, a film link and another daily message that the Bucs would win.
Reflecting upon all this and Godwin's acknowledgement of a 2019 shortcoming, Joe wonders whether The Jameisburg Address shouldn't have been a one-and-done thing in 2016.