Cameron Brate Or Leonard Fournette?
February 23rd, 2021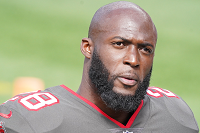 The headline represents a very simple yet still complex question for Bucs fans and management.
Cameron Brate is due $6.5 million for the 2021 season, a quality contract for a quality tight end who turns 30 before the season.
However, that's a lot of cash to spend at the position, if the Bucs are going to bring back Rob Gronkowski at a market value contract ($9 million annually?)
Last year, the Bucs got Brate to take a pay cut down to $4 million and change. It was a wise move for Brate, who was coming off injuries and less productive seasons. But will Brate agree to that again? Joe would not wager on it.
Brate may love Tampa and be eager to start his eighth season with the Buccaneers, but Brate just as easily could be a guy who accomplished his goal of a Super Bowl ring and now is more interested in getting market value for his services. Joe couldn't blame the guy if that's where his head is.
So with all that in mind. Joe is wondering aloud about who is more valuable to the Bucs offense, Brate or Leonard "Playoff Lenny" Fournette.
Fournette, obviously, is a running back, a position devalued in the NFL despite its importance. Heck, the franchise tag for running backs is only about $8 million, and Fournette probably wouldn't get the $6.5 million Brate is set to earn on the open market.
So what's a smarter expenditure for the salary-cap-squeezed Bucs, Brate or Fournette?
Joe would love to keep both, but if it's a straight-up, one-year decision without gray area, Joe would pick Fournette.