Bruce Arians Talks About Crying, And 5 More Things The Head Coach Talked About Tonight
February 10th, 2021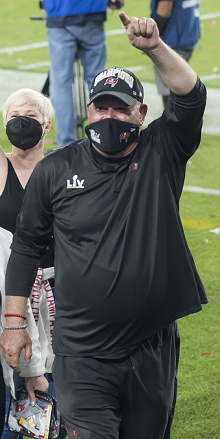 Bucco Bruce Arians was drinking and partying with his Buccaneers on the Hillsborough River today, and tonight he visited SiriusXM NFL Radio.
Here are highlights of Arians chat with Hall of Fame GM Bill Polian and Friend of Joe host Alex Marvez.
On crying: "I can honestly say, it really hadn't hit me til we got halfway down the river. I shed a tear or two. It was like, 'Wow.' It finally hit me we're Super Bowl champs."
On the overall plan against the Chiefs: Arians said the Chiefs aren't known for physicality. "We wanted to beat them up in the trenches."
On offensive coordinator Byron Leftwich: "Byron put one of the most unbelievable game plans together offensively. … To have two weeks to prepare was absolutely amazing."
On a special moment that revealed some of Leftwich's greatness: "Watching [Leftwich call plays for the Cardinals] when I was doing CBS [in 2018], you know, with Josh Rosen and they had so many injuries. And he scored points and beat Seattle. I'm like, "This guy really knows what he's doing." So yeah, I can't say enough. This guy's a superstar. Thank God for me that the hiring process has already taken place, because I'd probably lose both my [coordinators]." Editor's note: Joe looked it up. Arizona did not beat Seattle that season. But hey, the drinks were flowing today. Joe loves good fiction!
On coaching Tom Brady: "I picked his brain a lot."
On Devin White: "Oh, man. We just left the [party] bus and he's getting ready to go ride his horse around the stadium. I mean, he's an unusual cat, man. When you got a guy 235 [pounds], 240 that runs a 4.30 [40-yard dash] and he's got great hands. He's a freak of an athlete. The kid's a great kid. I love him to death." … "When you have two linebackers that run like [White and Lavonte David], it's kind of easy coaching."
Bruce Arians joined @alexmarvez & Bill Polian and told them the reality of what was accomplished really set in during today's parade….

"I shed a tear or two. It was like 'Wow'… it finally hit me, we're Super Bowl champs" @Buccaneers #GoBucs

LISTEN⤵️ pic.twitter.com/i0cha6wWy5

— SiriusXM NFL Radio (@SiriusXMNFL) February 11, 2021