Bruce Arians Reflects On Devin White
February 14th, 2021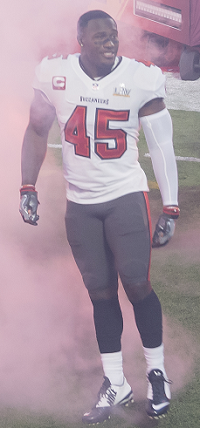 For Bucs fans already thinking about the 2021 season, Bucco Bruce Arians made interesting word choices on Friday.
Arians was a guest on Peacock and was asked about his savior linebacker, Super Bowl champion Devin White.
Bucs fans know the drill. White is rapidly developing and already is one of the best linebackers in football at 22 years old.
Arians talked about White's uniqueness and greatness, but he also talked about how White is enhanced by the presence of Lavonte David alongside him. It's there where Joe was intrigued by Arians' word choices as David prepares/hopes to break the bank as a pending free agent.
"I mean, I love him," Arians said of White. "He brings so much passion and energy every single day. He has to be probably the most talented linebacker in the league. But when you package him with Lavonte David, with his experience and his speed, it's a lethal, lethal combination."
The packaging of David and White has to be something the Bucs don't want to mess with. Don't break up "lethal, lethal," right?
But David has earned another long-term deal as he enters his 10th NFL season, and he could command a raise that would add to the great stress on the Tampa Bay salary cap. Many other Bucs are expecting pay bump, especially Chris Godwin, who could be looking at a $16 or $18 million raise after earning about $2 million for 2020.
Despite what Bucs officials have implied, keeping every player won't be simple. Would the Bucs allow a White/David breakup?