Bruce Arians: "I Don't Want To Go Back To Calling Plays"
February 19th, 2021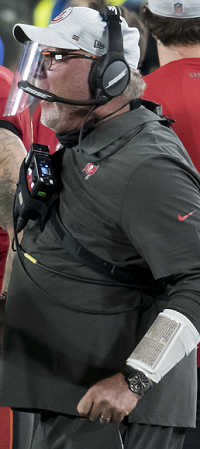 For a moment yesterday, Bucco Bruce Arians was talking about quitting.
It scared the hell out of Joe.
Joe is very clear on the reality that Arians is the straw that stirs the drink at One Buc Palace. Handing off the baton to Todd Bowles or Byron Leftwich, in Joe's mind, is like heading to the racetrack and betting to win on a horse that's never won a race.
A guest on The Herd on FOX Sports yesterday, Arians was asked about whether Tom Brady makes him feel younger, like he's sipping from the Fountain of Youth.
Arians agreed with the premise and then, on his own, rolled into what would have him start thinking of going back to golf and whiskey full-time.
"If I lost Byron [Leftwich] or Todd [Bowles], I'd have to think about [quitting] because not losing any coaches this year makes next year so much easier and so much easier to repeat," Arians said. "But once you start deleting your coaching staff, I don't want to go back to calling plays. And Byron right now is still the only guy I trust doing it. And I'd have to think long and hard if I was going to lose him."
Thank you, NFL owners — for not hiring Leftwich or Bowles as a head coach! (Later today, Joe will share an impressive endorsement of Leftwich as a head coach candidate.)
Arians' comments also should pull the plug on those who still think Leftwich is a figurehead stuck between Arians and Brady.
Leftwich's future is very intriguing. Suppose he's a serious head coach candidate next winter, would Team Glazer make a bold move on Leftwich if they knew losing him meant losing Arians and, subsequently, losing Tom Brady?