About The Tom Brady Contract Extension
February 4th, 2021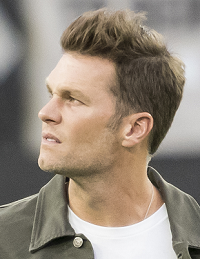 Everyone associated with the NFL likes to say it's a business.
It certainly is.
Everything about the NFL is rooted in cash. Consider that while Ndamukong Suh was about to start a news conference this week, he was told he could not sip his drink because it was an unapproved product. Therefore, Suh had to go off-camera to drink. Again, that was before the virtual session for media actually began.
The Bucs are all about money, too, from the boardroom to the field.
Just look at how Ronald Jones got hosed out of a 1,000-yard rushing season, a real football mark, just so Antonio Brown could get a $250,000 bonus to pay his legal bills.
Tom Brady has an under-market-value contract through the 2021 season. But 43-year-old Brady said this week he's considering playing past age 45. The math says he needs a new deal.
But more important, Team Glazer would be moronic to not try and extend Brady's contract now. What could be more important to their business?
First, a new Brady deal likely would give the Bucs salary cap flexibility in 2021, plus having a 2022 contract in hand makes it more likely Brady will stick around. And Brady in Tampa is a windfall for Team Glazer's treasured Buccaneers. It's much easier to sell sponsors multiyear deals when you can tell them Brady's in town for two more seasons.
Today Joe's ignoring headlines and chatter about a potential Brady contract extension. It's such a no-brainer that it's almost a non-story. Joe suspects the framework for a new deal already is in the works.