Tony Dungy Appalled By Packers' Choices
January 25th, 2021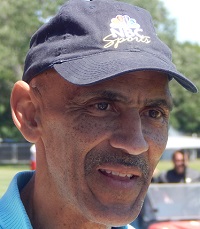 It's always a great and empowering feeling when you know your head coach was smarter than the other team's head coach.
Bucco Bruce Arians' former roommate, a man some now might call the third-best coach in Tampa Bay Buccaneers history, Hall of Fame head coach Tony Dungy, took to Twitter last night to deliver harsh criticism for the Packers' coaching staff.
That's uncommon for Father Dungy, who is a man of love and tranquility.
Father Dungy, however, let it rip after Green Bay didn't drop back and play centerfield/zone defense at the close of the first half. That's when Tom Brady, with eight seconds remaining and no timeouts, unleashed a touchdown bomb to Scotty Miller, 50-plus yards in the air. The Bucs marched into halftime with a 21-10 lead.
Joe will let Father Dungy say the rest.
That may be the worst defensive design I've ever seen with 8 seconds and no timeouts left. Green Bay—I'm not sure how you play inside technique man to man and nit just play zone and protect the sideline and the end zone? Amazing.

— Tony Dungy (@TonyDungy) January 24, 2021
And Father Dungy was not finished.
The truly moronic decision by the Packers to kick a field goal on fourth-and-goal with just over two minutes remaining and trailing by eight points left Dungy dumbfounded.
4th and goal at the 8. Trailing by 8 with 2:12 to play. If you kick a FG you still have to stop Tampa and score a TD. You take away the two point necessity but you still have to stop them and score a TD. I don't see the downside to going for it on 4th down??

— Tony Dungy (@TonyDungy) January 24, 2021
Joe still can't believe the Packers didn't go for a touchdown there. If they fail, the Bucs are backed up deep and Green Bay had all its timeouts and the 2-minute warning.
Of course, none of this mattered. The Bucs clinched their second trip to the Super Bowl when Tyler Johnson drew a pass-interference flag on third down with 1:41 remaining.