Sort Of Secret Playoff Weapon?
January 1st, 2021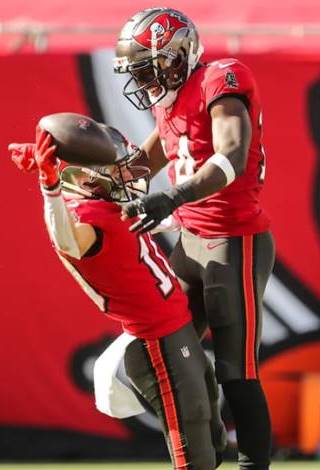 The guy Buccaneers players say is the fastest man on the team and exceptional at tracking the deep ball is also a guy rarely thrown to.
Bucco Bruce Arians spoke this week about not having to show several planned plays against the Lions because the rout was on early, and he added the Bucs will have plenty of fresh looks for defensive coordinators in the playoffs.
Cameron Brate also was gushing about a guy he thinks is going to be an offensive catalyst going forward. That would be receiver Scotty Miller, and Joe's wondering if the Bucs might be waiting to unleash Miller in the playoffs.
"Scotty has some pretty unique talents," Brate said of Miller. "I mean, he's the fastest dude on our team. Definitely the smallest dude, but the fastest dude on our team and he does a great job tracking the deep ball, which is really hard to do and not all those speed receivers can do it."
Continuing on the Buccaneers Radio Network, Brate said Miller is a "totally different player" this season and is "another guy, just every single time he's asked to make a play he does it."
Then Brate jumped ahead to the playoffs without being asked. "I'm sure we're going to be seeing Scotty make some more plays coming up here in a couple of weeks."
Miller's playing time and targets have been cut drastically since Antonio Brown arrived. But Miller proved ready and capable in the critical Vikings game in December. Of his just five snaps, one was a 48-yard touchdown bomb of a throw-reception.
Joe's got January confidence in Miller — and doesn't believe he's the next Edell Shepard.