Shaq Barrett Says A "Hypertalk," 24-Second Rule Is In Effect
January 15th, 2021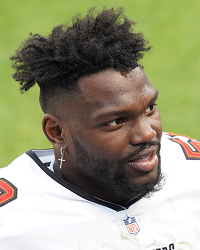 Edge rusher and 2019 NFL sacks king Shaq Barrett was talking today about communication troubles among Bucs defense players.
And it had nothing to do with scheduling vaccines for The Sickness.
Lax communication has led to defensive mistakes returning that Shaq and his fellow players thought were eliminated.
Joe and every other red-blooded Bucs fan has seen the Tampa Bay defense go from being the engine of the 2020 Bucs to a weakness. It's disturbing, but there certainly is plenty of talent in place to right the ship enough to complement the best Bucs offense in history against the Saints on Sunday night.
Shaq talked about how the defense literally raised its volume this week at One Buc Palace.
They set in motion a 24-second rule to "hypertalk" intensely about the last play in practice before the next playcall was made by Devin White. It was a concerted effort to get everyone's mind right and the communication flowing, Shaq said.
Joe asked Shaq whether Devin White's two-game absence was part of the communication that fell apart recently.
Shaq said no, but he later conceded that it might have been small factor.
Joe just hopes whatever the Bucs are doing to tighten up the defense is enough. There are no excuses in Week 19 — against a team you've already played twice. And Joe will add that because the Bucs played the Saints on opening day, that means Bucs defensive players spent a ton of time in the offseason focused on Saints film.
Now it's time for the talk to end and for the smart defensive play — and coaching — to kick back in.
---
Who's ready to watch the NFL on Saturday and Sunday and feast on amazing gumbo @BigStormBrewing Clearwater with an ice cold Big Storm beer? Damn, Joe cannot wait!
Willing to bet @IKaufman76 is there when the doors open Saturday for this special feast.https://t.co/vGcehHQRHu pic.twitter.com/8vEiDkaZNN

— JoeBucsFan (@JoeBucsFan) January 15, 2021