Rondé Barber Talks About How The Bucs Can Get Beat
January 31st, 2021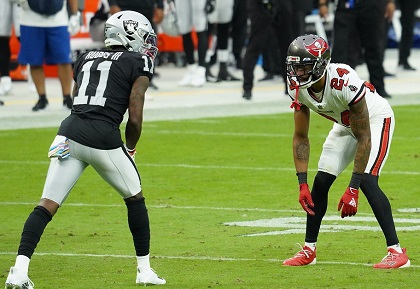 Tampa Bay may be riding a seven-game winning streak, a franchise-record mark, but they can be taken down easily if they do one thing next Sunday, says Bucs icon Rondé Barber.
Fresh off re-watching the Bucs-Chiefs game of late November, Barber made a visit to ESPN Radio to chat with his old friend and morning show host Keyshawn Johnson.
Barber told Johnson that Bucs-Chiefs game epitomized one of Chucky's favorite sayings, "I've never lost a game. I ran out of time."
As fans remember, the Bucs got rolled early in the game with Tyreek Hill going wild for 200-plus years receiving in the first quarter. Then the Bucs adjusted and clawed back made it a game in the second half before losing by three points.
"If you put Kansas City in a situation where Patrick [Mahomes] can identify man-to-man defense right away, you're going to get beat because nobody can cover [Tyreek Hill]," Barber explained. "Not only is he the fastest guy in the NFL — maybe Scotty Miller gives him a little run for his money there — but he's a contortionist. You know, when he's covered, he still makes catches.

"When you watch the first half of that game in November, Carlton Davis had good coverage but he was just getting beat. And the second half of that game, go back and watch on defense and watch how [the Bucs defense] adjusted. They kept everything in front. The two edge rushers started getting after the quarterback, and it became a game that they felt like they were going to win."
Barber isn't concerned about the Bucs offense in the Super Bowl. He believes the defense will be the X-factor as it's been through the bye week.
The formula is straight-forward, per Barber, "Find a way to double Hill and Travis Kelce. and pressure Mahomes and take away his quick options."
Of course, a huge issue is that Mahomes can succeed regardless of the defense, and the Chiefs have an arsenal of weapons like the Bucs do.
But Hill had 12 regular-season games with less than 100 yards this season. He's not Superman, but obviously the Bucs don't want him to beat them.
If the pass rush can be consistent, then Joe believes the Bucs will have a good chance of keeping the Chiefs under 30 points. The run defense is nearly unbreakable and the Bucs have enough playmakers across the defense to force a key turnover.