Praising Tom Brady
January 6th, 2021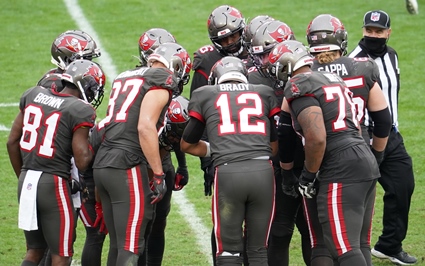 Joe is pretty sure that even a guy walking around with a white can see the main reason why the Bucs have gone from the NFL's outhouse of NFC franchises to a playoff team can be summed up in two words.
Tom Brady.
Just reading how Bucs left tackle Donovan Smith described Brady as a guy with unyielding high standards but at the same time, a locker room pal to everyone on either side of the ball shows what kind of magnetism and respect Brady brings to the Bucs.
Oh, and production. Lots and lots of production.
Albert Breer of SI.com details that Brady's importance to the Bucs both on the field and in the locker room is just about immeasurable.
Tom Brady deserves our praise. Coming into this year, the Bucs had a total of seven comebacks from down 17 points or more over their 44-year history, and a total of zero in over a decade. This year alone, they've had two. Coming into this year, the Bucs were mired in a 12-year playoff drought. This year, they locked up a spot in the postseason with a week to spare. And going into this year, the Bucs hadn't won more than 10 games in 15 years. This year, they won 11. There are, of course, a number of reasons for that. But Tom Brady's the biggest one, and there's no close second. The belief regardless of circumstance, the overarching consistency and the constant rate of improvement we saw from the Bucs are hallmarks of teams Brady's played for. So that, really, is part of what the Bucs bought in signing Brady to a two-year, $50 million deal in March. In fact, one Tampa official didn't even dance around that being what the Bucs wanted in pursuing the QB back in March. "A thousand percent," said the official. "The standard has just risen. What he brings is going to be, obviously, extremely valuable. But what he leaves behind, whenever that is, hopefully it's more than two years, is equally as valuable. I think it'll be … it's awesome." This guy then added, "He's a different breed." And at 43, Brady's proven it time and again. This year, he had the second-highest TD pass total of his career (40), the fifth-most yards (4,633) and a passer rating (102.2) better than those in all but one of his six championship seasons. Is he the same as he was in 2014? Probably not. But that it's even a question at this advanced stage is pretty remarkable. As is the difference he's clearly made in Tampa.
There is no doubt about it: Without Brady, maybe the Bucs are a wild card team. Maybe.
Could part of the reason Brady and his offense have clicked so well recently be that Brady knew all along he had three months to get comfortable with all his new toys and then when December came around, he knew it was time to kick it into overdrive?
After all, it's not like all of this playoff business is anything new to Mr. Six Rings.
Perhaps no QB heads into the playoffs as red-hot as Tom Brady.

Since Week 15:

1,137 Pass Yards (most in NFL)
10 Pass TD (most in NFL)
10.1 Yds/Attempt (most in NFL) pic.twitter.com/LE7GlwYAf7

— NFLonCBS (@NFLonCBS) January 4, 2021