"Phenomenal Gameplan"
January 18th, 2021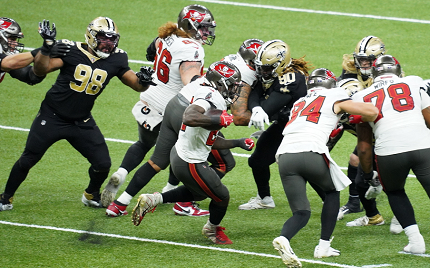 In yesterday's historic win, the Bucs offense looked an old-school, smashmouth unit more than it has all season.
What a time to bust out the mauling gameplan when your offense had been hot spraying the ball around the field.
There's a divide at JoeBucsFan.com world headquarters; one Joe loved it, the other was left shaking his head while the Tampa Bay offense didn't look as dynamic has it had over the past five weeks.
Former Bucs quarterback Chris Simms was applauding Bucco Bruce Arians this morning on PFT Live for his willingness to prioritize the running game in what he called a "phenomenal gameplan."
Arians said a younger Arians might not have been willing to get conservative in a huge game against a powerful offense. "He wasn't always willing sacrifice deep throws," Simms said of Arians' past.
The Bucs did throw on a couple of 3rd-and-short scenarios, including a deep shot into double coverage; it wasn't all ground-and-pound with measured shots. But the bottom line is Leonard Fournette led the Bucs in receptions and rushing, and he and Ronald Jones combined for 125 yards on 30 carries.
That's old school football against a true top-10 NFL defense — in mid-January.
That approach only happens if you think your offensive line is coming to bust some heads and your running backs are on point. And that's exactly what the Bucs got yesterday.