On His Back They Go
January 2nd, 2021
BY IRA KAUFMAN
He was the story in March and he's an even bigger story now.
The signing of Tom Brady single-handedly transformed the Buccaneers into the most intriguing team in the National Football League — and nothing has changed.
Tampa Bay's exploits continue to provide constant fodder for the morning talk shows. All those prime-time games have only ramped up the national interest in a franchise yearning for relevance.
As the Bucs approach their first playoff matchup in 13 years, Brady remains the overwhelming focal point. Teammates like Ronald Jones, Tristan Wirfs, Jason Pierre-Paul and Devin White are enjoying impressive seasons, but it all comes back to No. 12.
Bruce Arians says Brady has exceeded expectations, which is quite a statement because Brady's bar has been set at a Hall of Fame altitude.
Whether he is blazing through his progressions in warp speed or patiently working with a young player on his technique, Brady is not only the straw that stirs the drink at One Buc Place — he's the cocktail Tampa Bay fans have been slobbering over for more than a decade.
Look what's happened since Tampa Bay's 6-2 getaway.
The third quarter of the season wasn't pretty for Brady or this football team. Three losses left Tampa Bay at 7-5 and in serious jeopardy of extending that playoff drought to 13 years.
While the Bucs were going 1-3, Brady completed only 62 percent of his pass attempts, with 8 touchdowns and seven interceptions. He kept starting slowly and by the time Brady found his timing, it was too little, too late.
When the bye week provided a chance to make things right, Brady capitalized with a vengeance.
In the past three weeks, he has hit on 72 percent of his throws, with 8 TD passes and zero picks. Tampa Bay has now gone three consecutive games without a giveaway. The 2019 Bucs couldn't go more than one week without turning the ball over.
At the moment, the football is coming out of Brady's right hand with accuracy, sizzle and touch, when necessary.
For Buc fans, that's the holy trinity.
Going Deep
Brady is the primary reason Buc Nation is anticipating a deep playoff run. Why not? He's 30-11 in the postseason.
If Brady stands at 34-11 by the time confetti drops at Raymond James Stadium on the evening of Feb. 7, Brady should be entitled to have a dish named after him at the Columbia Restaurant in Ybor City.
PAELLA A LA BRADY: Make the chicken lean and keep the sangria flowing … just like the Buc offense.
"Run the ball effectively and keep Tom clean," Arians says. "When we've done that, we've been pretty solid offensively."

Pretty solid? The 2020 Bucs have scored 38 points or more five times this season, averaging 479 yards while going 5-0. It's Brady's presence under center that gives Tampa Bay a puncher's chance while taking the wild-card route.
"His leadership is beyond anything I've ever seen," Arians says. "Peyton Manning is the only thing close."
If Tampa Bay gives Brady time to process opposing defenses, the Bucs will score plenty of points, whether they're playing at Lambeau Field, the Superdome or Lumen Field in Seattle. Should the Bucs struggle with protection issues, they could suffer an opening-round knockout.
Yes, it's all about Tom Brady.
Still.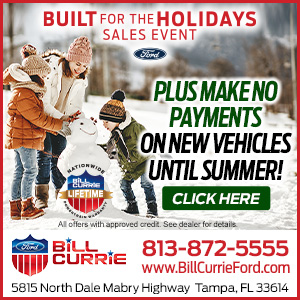 Amazing offers at BillCurrieFord.com. Don't blow it!