Not Looking Good For Alex Cappa
January 10th, 2021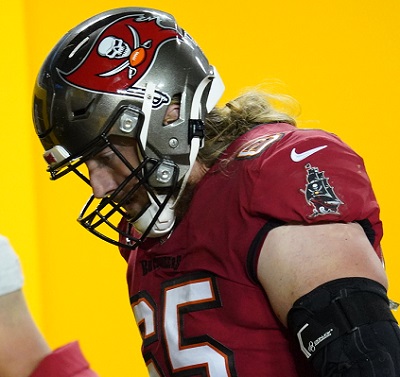 Bucs starting right guard Alex Cappa left the game in the first half and it may be his final game of the season.
Cappa suffered an ankle injury. Bucs coach Bucco Bruce Arians had an unpleasant update on Cappa's injury after the game.
Arians said initial tests suggest Cappa has a fractured ankle, which would likely put him on the shelf for a while, maybe the rest of the postseason.
Arians said when the team gets back to Tampa, Cappa will undergo a battery of tests and fingers will be crossed that it is not that bad. But Arians' tone of voice and body language seemed to indicate a lesser test result is wishful thinking.
This is bad news, as his replacement, Ted Larsen, the pride of Palm Harbor University High School, gave up two sacks Saturday night.
The bright spot is if Cappa can go, you know he will. Remember this tough SOB finished a game against the Saints playing with a broken arm.
Cappa actually led the NFC Pro Bowl fan voting for right guard. So he's had a helluva season in his second year as a starter.
A true Buc/ScuttleBuc reaction to tonight's game ⁦@JoeBucsFan⁩ pic.twitter.com/7SlFDbm1wu

— Tom Lang (@_TomLang) January 10, 2021