Monster Final 16 Minutes For Sean Murphy-Bunting
January 3rd, 2021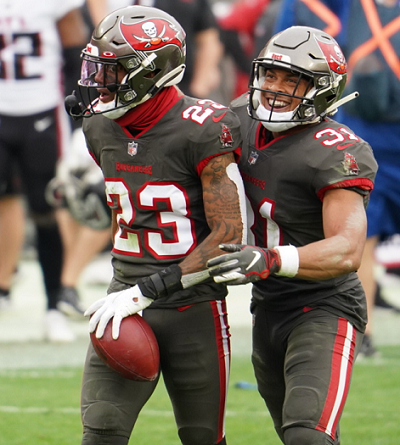 Joe might have to toss the nickname Sean "Burn Me" Bunting and transform that to Sean "Big-Play" Bunting.
What a final 16 minutes it was today for the Buccaneers' second-year cornerback, who has had his share of struggles this season. He's also had injuries, apparently worse than what has been made public.
With the Bucs leading 23-17 today against the Falcons in a gotta-win game, Atlanta had 3rd-and-goal at the Bucs' 3 yard line with seconds remaining in the third quarter. A pass then came to veteran receiver Laquon Treadwell, and Murphy-Bunting was all over him for a clean and key pass breakup. That pushed the Falcons to kick a field goal and close the Bucs' lead to three points.
Two Falcons drives later, Murphy-Bunting channeled Kwon Alexander's eye-popping 2015 strip of Julio Jones in Atlanta. Falcons receiver Calvin Ridley caught a pass over the middle and Murphy-Bunting ripped it out of his hands and recovered the fumble. The Bucs scored three plays later and the game was in the bag.
Joe is sure Bucco Bruce Arians gave the young man a game ball.
Maybe today was a sign that Murphy-Bunting is getting healthier?
It's definitely a sign he'll be playing with a ton of confidence in Saturday's playoff game, and that could prove critical as Carlton Davis remains injured.
Yeah, Murphy-Bunting couldn't shed a block and gave up the sideline on Falcons running back Brian Hill's 62-yard scamper, but he more than made up for it.