Leonard Fournette On Tom Brady; "It's Like Your Father Calling You To Come Do Something"
January 26th, 2021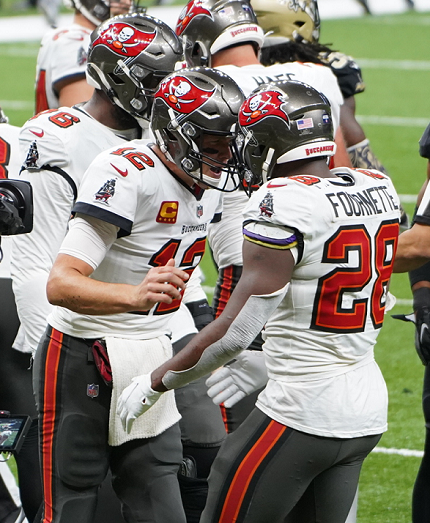 Interesting insight was served up yesterday by the man known as Playoff Lenny, Leonard Fournette, the running back dominating the rock for the Bucs in the playoffs.
Fournette, who will be a free agent in six weeks, wisely embraces doing national interviews. Last week it was The Rich Eisen Show; this week it was SiriusXM NFL Radio.
Asked whether Tom Brady summons him to get extra route running/throwing in after practice, Fournette said it reminds him of being a kid.
"It's so funny because, you know, he's 43 years old, you know what I mean? It's like your father calling you to come do something." Fournette said. "He's always calling me and the running backs [after practice], 'Hey Lenny, Shady [McCoy], Ro [Jones], come get some routes.' And that's what we do, and it's paying off right now.

"I think he just understands the aspect of the game when it comes to the value for running backs."
Consider one of the most telling stats tied to the Bucs offense of 2020: The Bucs are 7-0 this season when Fournette gets 10 or more carries, and in those games he has 30 receptions and seven touchdowns.
You're damn right Brady understands the role of running backs.
---
Enjoy the Ira Kaufman Podcast, presented by Bill Currie Ford.