It's Chiefs Versus Bucs, Tom Brady Against Patrick Mahomes In The Super Bowl
January 24th, 2021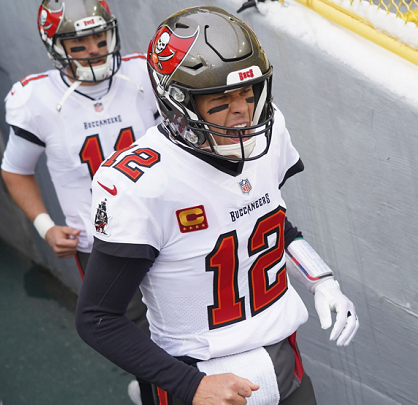 This is what your quarterback should look like when he comes out of a tunnel at Lambeau Field in the NFC Championship game.
And that photo above reflects how The Goat will approach the Bucs' attack-dog offense in two weeks, as it will need to come out sizzling against Patrick Mahomes and the defending champion Chiefs in the Super Bowl.
It's official. It's the Chiefs are coming to The Stadium on Dale Mabry Highway to face our beloved Bucs for the Lombardi Trophy.
It's two rematches in one for Brady and Mahomes. There was their historic AFC Championship game won by Brady in overtime two years ago, and the Chiefs squeaking by the late-charging Bucs 27-24 two months ago.
For the NFL and TV executives, it's a dream scenario. And frankly, Joe believes it's a great matchup for the Bucs.
Speaking on SiriusXM NFL Radio last week, Hall of Fame head coach Bill Cowher was asked how he would approach stopping Mahomes in the AFC Championship game.
Cowher's unprompted reply? Watch film of what Todd Bowles did after the first quarter when the Bucs hosted the Chiefs in November. Cowher talked about how well the Bucs safeties took Travis Kelce and Tyreek Hill out of the game with double coverage.
Of course, those safeties are injured Jordan Whitehead (shoulder) and Antoine Winfield Jr. (ankle), but Joe is reasonably confident they'll be able to play.
The Chiefs defense has holes, and the Bucs should be able to keep Tom Brady upright all game long.