Gameday Tampa Bay
January 3rd, 2021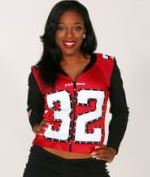 Game 16
Dixie Chicks (4-11) at Bucs (10-5)
Kickoff: 1 p.m.
TV: FOX (WTVT-TV Channel 13, locally); NFL Sunday Ticket Channel 711.
Streaming: Fans may stream the broadcast from Buccaneers.com or on a mobile device using one of the following: Buccaneers official app, FOX Sports GO app or Yahoo! Sports app. Geographic restrictions apply.
Radio: Buccaneers Radio Network WXTB-FM 97.9 in the Tampa-St. Petersburg region; 97.9 FM ESPN Radio in Tallahassee (Transmisiones de radio en español en WTMP-FM 96.1 y WMGG-AM 1470 en Tampa); SiriusXM Channel 83 (Bucs broadcast).
Weather: The warm weather that blanketed the Tampa Bay area for New Year's didn't quite last through this afternoon. It will be chilly at the Den of Depression for the final regular season game of the 2020 season. Per AccuWeather.com, tailgaters will deal with temperatures in the mid-60s under cloudy skies. By kickoff, look for a temperature at 68, which should remain steady until about the fourth quarter when the temperature will drop with the sun. By game's end it should be 64 degrees. There is a 43 percent chance of rain around halftime.
Odds: Per BetMGM, as of midnight. Saturday, Bucs -6.5; 50.5-under.
Outlook:  It's this simple: Bucs win and they play the NFC East division winner on the road to open the playoffs. All NFC East teams have woeful, losing records. If the Bucs face the Cowboys on the road, there is much informed speculation the Bucs will play late afternoon next Sunday afternoon or perhaps on NBC in primetime Sunday night. But first things first: The Bucs must win today. Joe has a hunch the Bucs will have to win a shootout. The Bucs' defense got hit hard when NFL sack king Shaq Barrett and star linebacker Devin White were placed on the Reserve/COVID list on Saturday, ending their regular seasons. It is unknown if White will be eligible for the playoff opener as he tested positive for the virus. Shaq was just a contact tracing issue and he is now in isolation. Given that the Dixie Chicks have a potent offense, Atlanta became that much more of a threat since the Bucs are without two of the better defenders in the NFL. Last week Bucs coach Bucco Bruce Arians said the key to stopping Calvin Ridley, the Atlanta receiver who has been on fire of late, is to put Matty Ice on the ground. Well, two of the Bucs' top three pass rushers (Shaq and White) are both out today. So much for a better pass rush than two weeks ago. Because Joe expects a shootout, and how hot park-violating, home-invading, NFLPA-ignoring, down-forgetting, handshake-stiffing, jet-ski-losing, biscuit-baking Bucs quarterback Tom Brady has been the past two games, Joe suspects Mike Evans to be a big target. He needs only 40 yards receiving to break the NFL record held by Randy Moss for most 1,000-yard seasons to start a career. The Dixie Chicks play the Bucs tough, and let's hope the Dixie Chicks' have their heads fully into their vacation plans than the game. The last time Atlanta interim coach Raheem Morris coached a four-win team into the final week of the season ironically was when he was coaching the Bucs; the opponent was the Dixie Chicks. Atlanta hung 42 first-half points on Rah's defense that day and frankly, Rah was lucky Team Glazer allowed him to finish the game. The next morning, Rah was a former Bucs coach. Fingers crossed Rah's Dixie Chicks are as equally checked out.
Trinkets: … Atlanta QB Matty Ice passed for 300 yards and 2 touchdowns without a pick last week, his 69th-career game with 300+ pass yards, fifth-most in NFL history. Ryan ranks fourth in the NFL with 4,316 passing yards, his 10th-career 4,000-yard season. Passed for 356 yards and 3 touchdowns without a pick in Week 15 meeting with the Bucs. Ryan has 300+ pass yards in 3 of his past 4 games at Tampa Bay. … RB Todd Gurley had 50 scrimmage yards (34 receiving, 16 rushing) last week. He rushed for 85 yards and 2 touchdowns in his only career game at Tampa Bay (September 2016 with the Rams). He has 5 rushing touchdowns in 4 career games against Tampa Bay. … RB Brian Hill had 61 scrimmage yards (36 rushing, 25 receiving) last week. … WR Calvin Ridley had 130 receiving yards last week. Has 8 games with 100+ receiving yards in 2020, most in the NFL. Ridley had 10 receptions for 163 yards and a touchdown two weeks ago against the Bucs. Ridley aims for his fourth in a row against Tampa Bay with a receiving touchdown. … WR Russell Gage had 5 receptions for 68 yards and a touchdown catch two weeks ago. He has 5+ catches in 2 of his past 3 road games. … TE Hayden Hurst had a career-high fifth receiving touchdown of the season last week. Looks for his third in a row with a touchdown catch. … LB Foyesade Oluokun had an interception last week. He is 1 of 3 linebackers (Marcus Peters and Jason Pierre-Paul) with 4+ forced fumbles (2) and 3+ interceptions (3) in 2020. He leads Atlanta with a career-high 110 tackles. … LB Deion Jones had 102 tackles and his fourth-career 100+ tackle season. Jones had 10
tackles and sack two weeks ago. He also had a pick-six and a fumble recovery in his visit to the Den of Depression. … S Keanu Neal had his second-career interception in last week. … The Bucs earned a playoff berth for the first time since 2007.
… QB Tom Brady passed for 348 yards and 4 touchdowns without an interception in Week 16. He has a Bucs franchise-record 36 touchdown passes in 2020 and is 1 of 2 quarterbacks (Aaron Rodgers) with 5 career seasons of 35+ touchdown passes. He has 2,298 pass yards (328.5 per game) and 15 touchdowns against 2 interceptions in 7 career games against Atlanta, including postseason games. … RB Ronald Jones had 116 scrimmage yards (106 rush, 10 receiving) two weeks ago against the Dixie Chicks. Jones looks for his third in a row at home with a touchdown. … RB Leonard Fournette 4 rushing touchdowns in his past 4 games and looks for his third in a row with a rushing touchdown. … WR Mike Evans had 10 catches for 181 yards and 2 touchdowns at Detroit last week. He has a franchise-record 13 receiving touchdowns this season. Needs 40 receiving yards to become the first player in NFL history with 1,000+ receiving yards in each of his first 7 seasons. Evans is shooting for his sixth home game in a row at home against Atlanta with 5+ receptions and a touchdown catch. … WR Chris Godwin has 23 receptions for 390 yards (97.5 per game) and 6 receiving touchdowns in his past 4 games against the Dixie Chicks. Godwin is looking for his third game in a row overall and fifth in a row against Atlanta with a touchdown catch. … WR Antonio Brown had a touchdown catch last week at Detroit. Brown has a touchdown catch in both of his last two games against the Dixie Chicks. … TE Rob Gronkowski had two touchdown catches last week, his 17th career game with at least two touchdown catches. … LB Lavonte David had a forced fumble last week. David is the only player with 20+ forced fumbles (23) and 10+ interceptions (11) since 2013. He has 109 tackles, his eighth career 100+ tackle season.
The Last Word: Brady needs four touchdown passes to reach 40 for the season. Only once has he had 40 or more in a season (50 in 2007).