Devin White Shares Tom Brady Soothing
January 18th, 2021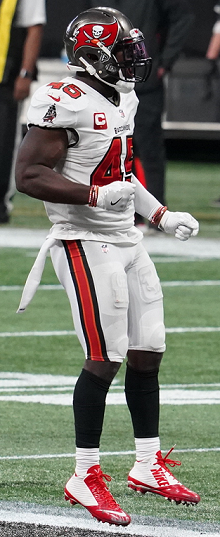 Joe loved witnessing savior Bucs linebacker Devin White deliver a Hall of Fame-caliber performance against the Saints last night.
He defined the term beasting.
His foot was on the gas and never came off. It was one of the great individual defensive showings in franchise history. Gotta be top-8, which says a hell of a lot.
After the "W,"' White talked to NBC Sports uber insider Peter King, known for his famous Monday morning NFL column, and for lecturing and pontificating on societal issues.
White barked to King about Tom Brady being such an impactful leader.
"Few weeks ago, I was kinda upset I didn't make the Pro Bowl. He's like, 'D, there's a bigger bowl I'm chasing. We're all chasing it. C'mon.'' White shared.

"I just thought, man, it's a blessing to hear that. I need to hear that. This thing's about us. He's still chasing those bowls in his forties. I am just so grateful to be able to spend this time with him."
Joe is all fired up thinking about White getting after Aaron Rodgers on Sunday in the NFC title game.
No, Joe doesn't think White magically is great in pass coverage, but he made plays and picked up major confidence in that area last night. However, White may already be in Rodgers' head as a pass rusher following the Bucs' Week 6 blowout of the Packers, and White really played at a superstar gear last night, better than anyone on the field.
Joe would let White go wild hunting on Sunday and see what kind of kill he brings home.