Chris Godwin, "Mrs. Foxborough," & "Clean It Up, Man"
January 15th, 2021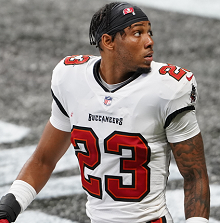 Objective, funny and solid takes in this video.
Joe is not much of a Jim Rome fan. He was cool around 1996, but that's a lifetime ago. Still, Rome has his national radio following and plenty of TV time on CBS Sports Network.
Known for his well-thought out sarcasm and methodical delivery, Rome busted out a take on the state of the Buccaneers entering their clash with the Saints.
A big Chris Godwin fan, Rome cautioned Godwin that he's close to having "Mrs. Foxborough lighting into you" if the drops continue. And Rome spends in the minute in the video below diving into the how the Bucs defense, that carried the team early in the season, has regressing mightily and embarrassed itself against Taylor Heinicke.
Enjoy.