Bruce Arians Talks "Attack Mode"
January 6th, 2021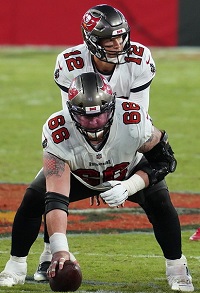 Something happened a few weeks ago that enacted major change in the mind of Bucco Bruce Arians.
It's simple, the Bucs were getting pounded by the Falcons 17-0 at halftime. It was unthinkable and deplorable.
So there was only one thing left to do, as Arians explained on the Buccaneers Radio Network last night. And that was to enter what he called "attack mode."
It started in the locker room at Atlanta and Arians made it clear it has everything to do with the Bucs reversing their philosophy of deferring kickoffs — if they won the coin flip. No longer would the Bucs hope to play defense and get the ball to start the second half. The new attitude was/is take the ball and attack.
Thankfully, the Bucs won the coin toss in the past two games.
Interestingly, Ali Marpet and Donovan Smith shared their love of the new approach on the same team-sponsored programming. They explained it's much better to get up for a game and hit the field than to sit and wait for the defense to get off the field.
Fixing slow starts, per Marpet, is partially about a new energy, and taking the rock first plays right into that.