Bruce Arians Names The Two Things He's Most Proud Of
January 26th, 2021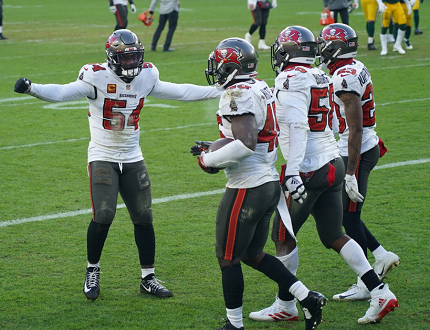 Not every head coach spits out predictable and clichéd responses.
Thankfully, Bucco Bruce Arians isn't boring.
Asked last night on the Buccaneers Radio Network to reflect on what he's most proud of when it comes to the 2020 Buccaneers, Arians went in directions some fans may not have expected.
First, Arians said he is most proud of the closeness of the team. In Arians' mind, when guys on the roster are close, they'll hold each other accountable more often and play harder for each other.
Of course, this has been a challenging year for player bonding.
Eight guys, for example, can't sit around a cafeteria lunch table at One Buc Palace because of NFL COVID restrictions, and there's certainly no postgame bonding at local clubs or at the eventful South Tampa pool parties former Bucs running back Derrick Ward took to another level.
Second, Arians said he's "so proud of how well we beat COVID. … Two more weeks to beat the virus before we can beat the Chiefs."
What a telling statement from a coach heading to the Super Bowl.
Virus-dodging was not on Arians' resumé entering this season. But he has managed to lead a highly successful effort — in a region of the country where there's certainly a ton of temptation when it comes to higher-COVID-risk activities.
Ironically, one could argue that Donovan Smith missing a game due to a COVID quarantine, and Devin White getting two weeks off, freshened their legs at just the right time. And Ronald Jones' COVID absence opening a door for Leonard Fournette certainly wasn't a bad thing.