Brett Favre Shares A Text Message From Tom Brady After Beating The Saints
January 20th, 2021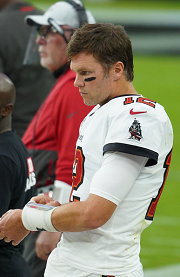 It's a safe bet that Tom Brady wouldn't stiff Brett Favre on a postgame handshake or a bro-hug like he did to other QBs this season.
Favre and Brady are buddies, as well as living quarterback legends.
Speaking on SiriusXM NFL Radio this week, Favre talked about texting with Jenn Sterger Brady after the Bucs walloped the Saints on Sunday to advance to play Favre's beloved Packers in the NFC title game.
"I sent Tom a congratulations text this week," Favre said. "'And he said, 'Hey, thanks Brett. It's kind of weird to think that I'm playing the championship game in Green Bay this week. Who would have ever thunk it?'

And I totally agree. It's kind of weird."
Joe realizes that's just two dudes shooting a friendly text, but it is intriguing to consider that Brady is shaking his head a bit in disbelief about where he is today.
Damn, if Brady thinks "it's kind of weird," then maybe he can understand how mind-blowing it is for long-time Bucs fans.
---
It's a special Hall of Fame talk edition of TAMPA TWO with Ira Kaufman and Derrick Brooks. Presented by Joe and The Identity Tampa Bay.