A Special Day
January 24th, 2021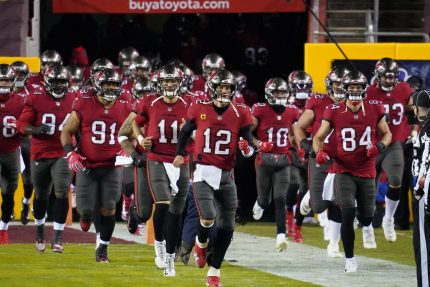 Joe is an emotional guy.
Just start with why this website began. It was 2008, and Joe was a Bucs fan (and a working journalist) completely frustrated by how written Bucs media coverage was stale and stuck in the 1980s.
Joe was fired up to have fun writing about the Bucs the way Joe talked about the team in bars, in offices, at games and on sports radio.
Dammit, Joe was going to marry Bucs fans on this blog in a way that would make Joe a bigger fan — and hopefully some beer money along the way.
The result was Joe literally obsessing 24/7 about the Bucs, never taking a day off, caring more about the team more than is spiritually healthy, and benefitting from millions of readers. Literally, only for this month, Joe has eclipsed 1 million actual visits to the website. The previous monthly high was only about 830,000.
So today is a very special day for Joe. The Bucs are in the NFC Championship game, and their talent level may be better than their opponent's.
It really feels like a dream. Now this is fantasy football. "Surreal" is the word Sage JoeBucsFan.com columnist Ira Kaufman put on it, and it fits.
Joe is so happy that our treasured fan base gets to enjoy this day, happy ending or not.
If nothing else, today stamps a legitimacy on the franchise that is so overdue, and it sets up the most exciting offseason since 1998. Back then, the Bucs had just broken through into the playoffs after a generation-long drought, beat Barry Sanders and the Lions, and the town was full of true believers preparing to enter a new stadium the following season.
Enjoy today, Bucs fans, especially the guys and girls who spent years earning the euphoria they're feeling this morning.
If you want to bond in person, join fired up Bucs fans at Big Storm Brewery taprooms in Odessa or Clearwater, where the outdoor covered seating is exceptional special. Or just hang out right here commenting with fans through the game.
Win or lose, it's a special day.
And yes, the Bucs absolutely can throttle the Packers at Lambeau. Tampa Bay has the talent and Tom Brady, and they did it in October. What more could a Bucs fan ask for?
Fired up for an awesome Sunday in the fun outdoor covered taproom area @BigStormClearwater. (indoors, too) Great views. Great sound.
Enjoy Florida's finest craft beer and A+ food with fired up Bucs fans. Joe's got halftime giveaways.
Go Bucs!!!! pic.twitter.com/oMLX2ud715

— JoeBucsFan (@JoeBucsFan) January 23, 2021