A.Q. Shipley Talks Byron Leftwich, Bruce Arians & Tom Brady
January 31st, 2021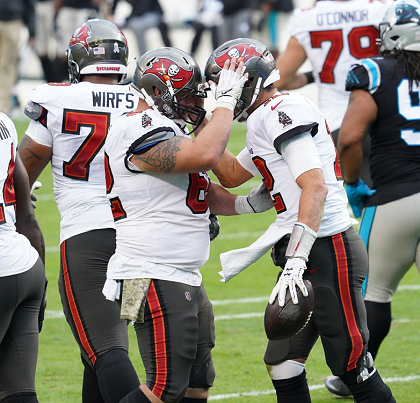 Serious Bucs fans will remember that newcomer backup center A.Q. Shipley made two starts this season before a career ending neck injury.
It is the 34-year-old's 12th NFL season, and his third team under Bucco Bruce Arians, so Joe was very interested to hear him speak last week.
Some highlights:
*First, Shipley called his neck injury "a little freak thing," the same kind of hit he's taken 1,000 times, he told 98.7 FM in Arizona. "I can walk and live a normal life, and I'm grateful for that."
*On Tom Brady: "Unbelievable to just watch him kind of make everyone around him better." … "He's so intense, football and winning is everything." Shipley advises to watch The Last Dance documentary on Michael Jordan to get an idea.
*Brady, per Shipley, is dissecting the game plan all week long until a couple hours before the game, and it's a relentless process to watch unfold.
*The Bucs offense? It's great, but it's not the future. He says Cardinals offense with Kyler Murray is the future as the Brady and Ben Roethlisberger-style of quarterbacking completely becomes yesteryear with the end of the Manning brothers, Phillip Rivers and Joe Flacco in the NFL
*On Arians, "He's taken a step back. He's done a fantastic job of letting Byron [Leftwich] kind of run the show. He's letting Byron control the offense. … It's been cool to watch how things evolved with Byron, with obviously B.A.'s stamp on it. You know, [Arians] is not like overstepping his boundaries. … He's not second guessing what [Leftwich] is doing."
*On the touchdown bomb to Scotty Miller that closed the first half against the Packers,  "The balls it took for Byron to make that call, right?" Added that it took the air out of the stadium.
*Shipley says Bucs have changed a lot through the season and since last facing the Chiefs, mostly the growth of the run game, the elimination of penalties and the recent rise of the defense.
Thank you, Bucs fans!
3 million pages viewed at https://t.co/uyGzTXFlyr in January is a new monthly record. pic.twitter.com/nCaTZs2Xgz

— JoeBucsFan (@JoeBucsFan) January 31, 2021