Tristan Wirfs The New "One Man Gang"
December 21st, 2020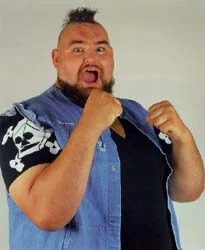 One reason Joe sometimes references 1980s wrestlers is that the "sport" had such great, hilarious characters.
One such guy was a heel who went by the handle of "One Man Gang." As the name implied, he could take down more than one man.
So watching a clip of sensational Bucs rookie right tackle Tristan Wirfs, the first thing that came to Joe's mind was Wirfs is a one-man gang.
On a pass play yesterday, Wirfs took out two pass rushers. OK, that's not really that rare. You probably see that once or twice a game.
But a tackle taking out pass rushers coming from both the right side and the left side? That's like a one-man offensive line. But that's what Wirfs did.
The clip of Wirfs below is both just awesome and hilarious. Joe laughed for a good five minutes. It's like something you see out of a Bruce Lee or John Wayne movie. Only this was a football field. And real life.
Just like Ryan Succop has made place kicking boring again (thankfully!), Wirfs makes watching blocking fun again, too.
Ol 2-for-1 special from Wirfs 👀 pic.twitter.com/xhprrizpiU

— Ben Fennell (@BenFennell_NFL) December 21, 2020