So Gratifying
December 28th, 2020
BY IRA KAUFMAN
A grim year is ending amid jubilation for Buc Nation.
You know who you are — you're the Buc diehards who kept the faith through a tumultuous stretch. You're the ones who braved the heat and the traffic and the ticket prices to show up at Raymond James Stadium year after year, keeping hope alive through the dark days.
Six head coaches have walked the sideline since the Bucs last prepared for a postseason game. Three general managers have presided over football operations since this franchise mattered on a national scale.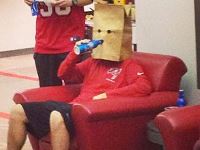 Buc supporters, the real ones who never took a dive off the bandwagon, have been through a lot. That's why they deserve to celebrate today, anticipating a playoff road game in Week 18.
And if Tampa Bay sweeps Atlanta, the Bucs will be favored … whether they head to Washington, Dallas or New York.
Can you believe what Buc fans have endured since the start of the 2008 season?
First, there was the failed pursuit of Brett Favre in the summer, followed by a December collapse of epic proportions that spelled the end of the Jon Gruden era.
The Darkness
As expected following a purge of veterans, the Bucs were awful in 2009, but Josh Freeman emerged the next year as the catalyst for a 10-6 season. The Bucs sat on their wallets and got what they deserved in 2011 as the team gave up on Raheem Morris after a 4-2 start.
Come on down, Greg Schiano, and bring that thermostat with you.
Schiano won seven games his first year, but 2013 was bizarre – even by Buc standards. Freeman went sideways, MRSA entered the facility and Tampa Bay opened 0-8 before finishing with the worst offense in the league.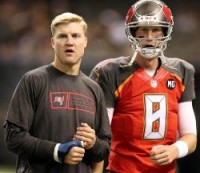 Ownership then turned to Lovie Smith to straighten out this cockeyed pirate ship, but a 2-14 record ushered in the Jameis Winston era, characterized by a flurry of giveaways and one winning record in five seasons.
Who can forget free-agent underachievers like Dashon Goldson, Anthony Collins, Swaggy Baker and DeSean Jackson? Who can forget draft busts like Vernon Hargreaves, Noah Spence and Mark Barron?
We haven't even mentioned the annual quest for a kicker to replace Matt Bryant.
If all those scoreboard failures weren't tough enough to stomach, Buc players kept finding trouble off the field. Aqib Talib, Mike Williams, Winston, Austin Seferian-Jenkins, Freeman, Doug Martin, Tanard Jackson and Jerramy Stevens are just some of the miscreants who have worn a Tampa Bay jersey during this dry spell.
Oh, and who could forget the Darrelle Revis fiasco?
Dues Paid
The Bucs yielded a first-round pick to the Jets for Revis and paid him $16 million, although he was coming off a torn ACL. He wasn't 100 percent for the 2013 season and when Lovie Smith replaced Schiano, the Bucs dumped a healthier Revis, getting nothing in return. Bill Belichick swooped in and Revis promptly helped the Patriots win the Super Bowl.
You can't make this stuff up.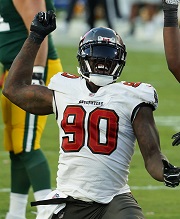 There are enough Buc foibles during these 12 lean years to inspire three new series on Netflix. That's why this 2020 season has been so special, so gratifying.
Tom Brady may think he knows the pain Buc fans have endured, but he has no clue.
While Tampa Bay was finishing last in the NFC South seven times within an 8-year stretch, Brady's Patriots were in the midst of a dynasty — the likes of which this 100-year-old league had never seen.
Buc fans, rejoice. You've paid your dues and your invoices while asking for very little in return. All you wanted was a little relevancy, some meaningful football in late December.
We're about to flip the calendar and Buc Nation isn't consumed with the 2021 NFL draft. The Bucs won't have a premium pick.
Ain't that good news, man ain't that news.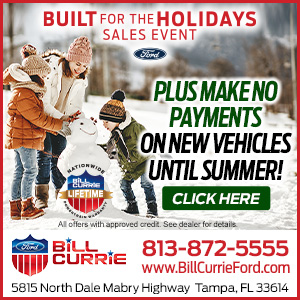 Amazing offers at BillCurrieFord.com. Don't blow it!