Shaun King Sees Undisciplined Defense, Exposed Youth
December 5th, 2020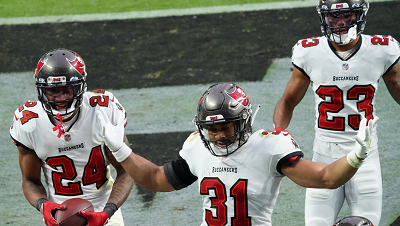 Lifelong Bucs fan and one of three quarterbacks to lead the Buccaneers to the NFC Championship game, Shaun King always has his eye on his beloved Buccaneers, the team that drafted him in 1999.
King is one of Joe's very favorite analysts, though his raw Bucs analysis had been stifled in recent years while he was a college coach. But King has a new gig this year and he's opening up.
Speaking this week on WDAE Radio, King found a Bucs' defensive red flag that Joe had noted and considered inexcusable.
Against the Rams two games ago, Shaq Barrett and Devin White jumped offsides on third down, crushing plays for the Bucs. Did the Bucs clean it up the next week? Nope. Against the Chiefs on Sunday, they were flagged for the same offense three times.
"I just think that's a sign of a lack of discipline," King said of repeating those penalties.

"And what kind of puts us in a weird position is we're so young in the secondary. So if our pass rush isn't elite, we have guys still trying to figure out not just the scheme, but where they fit in this league. So I think you see some of that getting exposed. … They're just going to have to keep getting creative on ways to get to the quarterback, because when we don't put pressure on the opposing team's quarterback, we're not very good."
King is on the money when it comes to the Bucs' secondary collectively getting exposed. Bucs officials rolled with three 23-year-old cornerbacks who were gifted starting jobs, and another 23-year-old safety alongside a rookie. That was a huge leap of faith in a passing league.
Through 12 games, the defensive backs have held up reasonably well overall, but it's been nowhere good enough to match the Bucs' high goals. And their play is in rapid decline.
Thankfully, the Bucs have a week off to get coached up and ready for a solid Vikings passing attack followed by a Falcons offense that put up 371 yards passing and four touchdowns on that Vikings defense six weeks ago.