Scotty Miller Talks Deep-Ball Chemistry, Details Spring Work
December 15th, 2020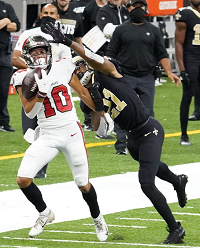 If you listened to Bucs receiver Scotty Miller talk yesterday, you heard a guy describe having roughly 35 training sessions with Tom Brady before the Bucs arrived for training camp in late July.
Speaking on SiriusXM NFL Radio, Miller, a Sunday hero against the Vikings, was adamant that he built superior deep-ball chemistry with Brady long before opening day.
With 28 catches for 462 yards, Miller decisively leads the Bucs in average yards per reception at 16.5, and he's got three touchdowns.
"I really got to work out with [Brady] like three times a week for like three months before [the season]," Miller said. "A lot of other guys did, so we got to work out a lot of things.

"I view myself as a like a deep-ball player, big-play-down-the-field receiver. So [Brady and I] got to, you know, iron those things out and really get on the same page. He got a good feel for what I'm good at and kind of where to play the ball to me. So really we've been on the same page ever since [spring and summer], really. And we've been able to show a little on Sundays."
Miller's chatter intrigued Joe because he sort of put a number on how times he worked with Brady.
Simple math says three months (aka 13 weeks) at three times per week, is 39 practice sessions. For discussion, Joe will pretend Bradyand Miller (and other receivers) only had 30 sessions. That's an awful lot of time, and it makes you wonder about all the endless chatter about Brady not having enough time with receivers.
Miller said he clearly understands his role but also hopes for a much bigger one. He stressed the great health of the Bucs' pass catchers this late in the season and said he knows he's battling for targets with a dream team.
"I just hope that I continue to get more opportunities," Miller said.