Rondé Barber: "That's On Byron"
December 11th, 2020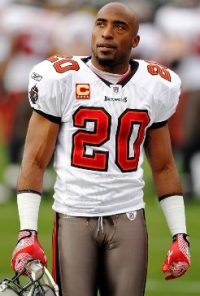 Rondé Barber took Bucs fans down a very interesting road this week during his chat on The JP Show.
Of course, the Bucs were a topic of the day with host JP Peterson and the Bucs' running game came up.
Barber pushed just about all his chips in on Ronald Jones, saying RoJo might be better than Dalvin Cook.
"I think in terms of size, speed, and dynamism with the ball in his hands, I don't know that there's a better guy. You can say [Dalvin Cook] is just as good, but he's not nearly the size of Ronald Jones," Barber said.

"Ronald Jones is the type of back, that if he's on 90 percent in the fourth quarter, guys don't want to hit him. He's big, strong, powerful, and he can go through you, over you and around you.

"I was impressed with him as a rookie. And I knew he was kind of behind and he wasn't in it like he could have been in it mentally. But I saw the flashes last year and I was expecting what we've seen this year. And the more touches he gets, the better he gets."
Ok, Barber's a big RoJo fan. But what about the Bucs needing to focus on the run game to improve the offense?
Barber said he talked to Bucco Bruce Arians during the bye week and noted that the offense has got to run through RoJo.
Peterson replied that Arians may say that but it's not happening.
To Joe's surprise, Barber then wagged a finger of shame at offensive coordinator Byron Leftwich.
"That's on Byron. That's on Byron. He's gotta commit to it," Barber said. "He's gotta have the patience to do it. And not a lot of coordinators have the patience to stick with the running game, especially when you're behind in the game early. You feel like, 'Oh, I gotta chase it and get back in it right now.' Nope, that's not how you win football games in the NFL."
This is all very intriguing considering Arians is head coach, it's his offense, he carries a play sheet and is Leftwich's mentor. Second, Tom Brady is driving the bus when it comes to choosing plays and checks at the line of scrimmage and the power of his input.
But "that's on Byron," says Barber, who may be the ultimate Bucs insider.
Yes, Joe understands that Brady is a quarterback and quarterbacks like to throw when they have loads of elite weapons.
Joe's tired of thinking about the responsibilities and desires within the Bucs. Just go out and score 30 points a game like this team is more than capable of achieving.