Rich Gannon Talks About What's Holding Back Tom Brady
December 21st, 2020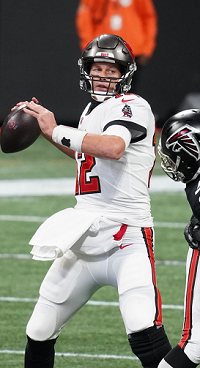 Joe would have ignored this nugget from former NFL MVP quarterback Rich Gannon, who now works for CBS, but Gannon said specifically that he's been talking to people in Tampa.
Gannon joined The Rich Eisen Show last week and, ironically, made listeners think that something is out of sync with Tom Brady in the Bucs' offense and that it wouldn't be fixed soon.
And, voila! The Bucs offense had extreme highs and lows yesterday, and another slow start.
Gannon ranted about Brady's history in New England with not only a similar playbook but the same footwork, expectations and coaching demands that are now changed.
Then Gannon rolled into how things are probably different for Brady in Tampa.
"The other thing that you're not hearing is, I just think Brady's used to things being done a certain way — attention to detail, discipline, structure," Gannon said. "I'm not saying that Bruce isn't that way, but it's probably not as tight, it's probably not as disciplined.

"And so Tom's probably having to walk over to receivers during practice and coach them up a little bit, talk to the backs, whereas he never had to do that. I mean all those assistant coaches in New England had been there forever, and they all knew it was supposed to be done a certain way. And they all had to answer to Bill [Belicheat]. And sense is things aren't as dialed in as he wants them to be, as he needs them to be on Sunday, and that's had an effect on his performance."
This is all very interesting to Joe, especially after Gannon said he's been talking to people in Tampa. Who they are is unclear, but Gannon is not a smoke-blower.
Maybe the inconsistency on offense can't be fixed this season. Joe can accept that. But that doesn't mean the Bucs can't play better football overall and win in January. They were within a field goal of the Chiefs and Rams last month.