"Protection Errors"
December 28th, 2020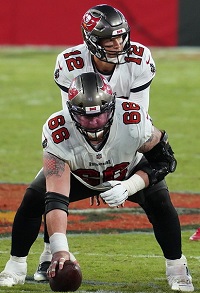 We're about 48 hours from the ecstasy of our beloved Buccaneers making the playoffs, so it's ok to nitpick a little bit.
A former Buccaneer sees a clear issue out of the Lions game, and it's not the ugly special teams play.
Ex-Bucs tight end Anthony Becht spent well over a decade in the trenches and he was pained watching film of the Lions-Bucs game in the first half, when the Bucs were dominant.
Not good enough for a playoff team, he explained.
"Of the 43 [offensive] snaps in the first half, I counted at least 11 snaps where there were some protection errors, whether it was not working the twist or the games, getting beat 1-on-1, knocking down Tom Brady, protection from the running back," Becht told WDAE radio. "Eleven times is 25 percent; that's way too much in the first half to me. And they really got bailed out in the first series."
The bailout on the opening drive Becht speaks of was a Tom Brady sack on 3rd-and-4 that was wiped out by an offsides call. (The guy offsides was not the sacker.) The 3-and-out was gone and the Bucs drove for a touchdown.
The rough protection and those first three downs, per Becht, make it tough to gauge whether the Bucs are fully out of their slow-start funk.
This was one of many topics (not Becht's commentary) on today's new Ira Kaufman Podcast below and on the home page.