Leonard Fournette Is Benched
December 13th, 2020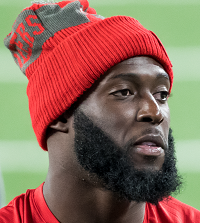 UPDATED 11:45 a.m. – Leonard Fournette will not play today.
That's the official word from the team, as Fournette has been declared inactive against the Vikings.
Perhaps it's also why LeSean "Shady" McCoy has been Tweeting all kinds of messages expressing his happiness last week.
Through his last four games, Fournette has 46 yards on 19 carries and a few drops in the passing game. Ugly numbers.
Joe doesn't know if Fournette broke a team rule, or the Bucs just want to give other players a shot. What Joe would bet at few bucks on, however, is that Tom Brady is behind this decision in some way.
Rookie RB Ke'Shawn Vaughn is active today after weeks of being buried; he hasn't taken an offensive snap since Week 6. So that represents more change at the position.
Here are today's Bucs inactives:
DL Khalil Davis
DL Jeremiah Ledbetter
TE Tanner Hudson
CB Jamel Dean (groin injury)
RB Leonard Fournette
QB Ryan Griffin
---
Buccaneers legend Derrick Brooks is back for TAMPA TWO, episode 2 this week with iconic JoeBucsFan.com columnist Ira Kaufman.
All the fun and wisdom is via The Identity Tampa Bay and Joe.