Expanding The Playbook
December 31st, 2020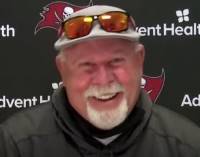 It drove Joe nuts when Joe would hear lazy TV commentators say that well into the season, park-violating, home-invading, NFLPA-ignoring, down-forgetting, handshake-stiffing, jet-ski-losing, biscuit-baking Bucs quarterback Tom Brady was still learning his new teammates.
As Joe's good friend, the late great "Big Dog," Steve Duemig of Tampa Bay sports radio fame, would say, "BULLS(P)IT!"
You didn't see Kyler Murray struggle with DeAndre Hopkins. You didn't see Joe Burrow struggle. You didn't see Teddy Bridgewater struggle. You sure as hell didn't see Justin Herbert struggle.
However ,yesterday, Bucs coach Bucco Bruce Arians seemed to hint that maybe really was a factor. Not so much struggling but the offense may have been too vanilla. Once everyone was on the same page (remember, furniture-tossing, bicycle-throwing Antonio Brown joined the team midseason), Arians and Brady were able to unwrap more complex elements of the offense and start expanding the gameplan.
Then the offense began to click.
"I think everybody knowing each other a little more and more each week [has helped]," Arian said. "There's not a lot of new things, dressing things up [and] making them look different – everybody's kind of on the same page now, so there's no miscommunication at all. 'I thought he was going deep, no I'm breaking in on this coverage.' I think everybody's on the same page and it's really showing."
If you think about it, the offense began to sputter when Brown joined the team. It certainly changed.
So Brown may not have been the midseason culprit, per se, but he had to learn the playbook and his new teammates (though he did have experience with Brady).
Well, if a team is going to get hot, late December is just about the perfect timing.