Bucs At Dixie Chicks, TV Map
December 19th, 2020
Wanna know where you can watch the Bucs-Dixie Chicks game tomorrow afternoon on free TV? Joe's here to help.

It seems it's an SEC Country game — with a little New England flavor. Bucs fans in those regions will have access to the game over the air from their local FOX affiliate. Otherwise, it is off to Big Storm Brewery in Clearwater or your neighborhood Hooters.
(It cracks Joe up that the Bucs were rarely piped into New England and all of a sudden this year, the Bucs are regularly televised in lobster and maple syrup country.)
Kevin Burkhardt and Daryl Johnston will handle the call.
(Streaming information will be included in "Gameday Tampa Bay" scheduled to publish here at midnight.)
As always, TV coverage maps are courtesy of 506sports.com.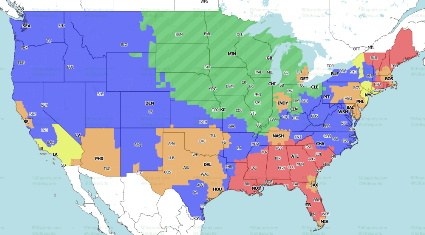 Red: Tampa Bay @ Atlanta
Blue: Seattle @ Washington
Green: Chicago @ Minnesota
Yellow: NY Jets @ LA Rams (LATE)
Orange/Brown: Philadelphia @ Arizona (LATE)