A Moment To Reflect
December 21st, 2020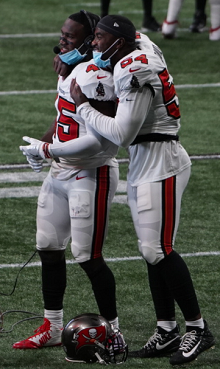 Joe is really having a day of ecstasy after the Bucs' thrilling victory yesterday.
And it's not just about the Bucs. For guys like Joe who pay attention to other sports in town, it's been a breathtaking year.
The Lightning won the Stanley Cup, and the young and crazy-exciting Rays marched to the World Series. And now here are the Bucs a breath from the playoffs. Joe's reflecting today on what a gift this sports year has been in the midst of a pandemic that changed the world.
Wow!!
There are young dudes at work now, say a 23-year-old rental car agent, that literally have never seen the Bucs in the playoffs. Maybe they got into the NFL in fifth grade and have no recollection of Earnest Graham, Joey Galloway, Derrick Brooks, Rondé Barber and Jeff Garcia marching the Bucs to the playoffs in the 2007 season.
The Super Bowl win? For those guys and ladies it's just something old people talk about.
There's a whole new breed of Bucs excitement out there and Joe is so damn happy for the hardcore fans that plodded through The Lost Decade marked by bad ownership moves and non-moves, horrendous personnel decisions, gut-punch losses and a losing home record that was the worst around.
It really is a new day in Tampa Bay. How long it lasts, Joe has no clue. And Joe doesn't care.
It's a modern miracle and Joe's going to savor these days.