23 Wishes For 2021
December 30th, 2020
BY IRA KAUFMAN
It's almost time to flip the calendar on the most bizarre year any of us can remember.
When the ball drops in Times Square to usher in 2021, the hundreds of thousands who traditionally gather at The Crossroads of the World won't be there. When the Bucs play the Falcons in the regular-season finale Sunday, the vast majority of seats at Raymond James Stadium will be empty.
It's been that kind of year. Thank heavens it went by so fast.
Yet amidst the carnage, there is reason to celebrate. For Buc fans, 2020 has been a godsend, a jolt of electricity for a franchise on the blink.
The postseason dance is dead ahead and Tampa Bay has been invited to the party. Can't you hear the E Street Band tuning up for "Glory Days?"
As our New Year's resolutions are unveiled, let's see what all those worker bees at One Buc Place are pining for:
Bruce Arians: An opportunity to receive a COVID-19 vaccine shot in January.
Jason Licht: The chance to see how this talented roster he has assembled comes together in the next six weeks.
Tom Brady: A Super Bowl bauble to adorn his second ring finger.
Mike Evans: Leaving Randy Moss behind in the NFL record book – most consecutive 1,000-yard seasons by a receiver to start a pro career.
Chris Godwin: A fair contract extension that will keep this Hines Ward clone in a Tampa Bay uniform.
Rob Gronkowski: Another glittering playoff run for a first-ballot Hall of Famer.
Donovan Smith: Four postseason games … zero flags.
Tristan Wirfs: Recognition as the league's best rookie offensive lineman.
Ryan Succop: A return to reliable form.
Antonio Brown: A few quick slants to show he still has those jets.
Byron Leftwich: A renewed commitment to stick with the run.
Ronald Jones: A healthy postseason to back up that commitment.
Todd Bowles: Aggressive defensive game plans — from the start.
Jason Pierre-Paul: A hunting party for Tampa Bay's only Pro Bowler.
Shaq Barrett: A big finish to land that big contract.
Lavonte David: Ditto.
Devin White: Legitimate consideration for All-Pro honors.
Carlton Davis: The health and confidence to shadow the best receivers playoff opponents have to offer.
Sean Murphy-Bunting: The self-realization he's not there yet.
Antoine Winfield Jr.: A few more exotic packages to showcase his dynamic blitzing skills.
Tom Moore: Another year of good health.
Glazer family: A return to the Super Bowl stage, this time in their own stadium.
Buc fans: A better 2021, beginning with a stirring playoff run.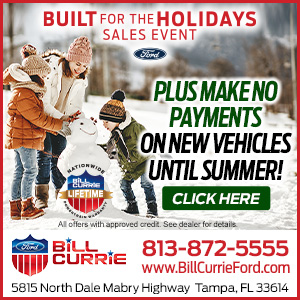 Amazing offers at BillCurrieFord.com. Don't blow it!
.