Tom Brady's Former QB/Coach Coordinator Talks Chiefs-Bucs, Brady Deep Balls
November 28th, 2020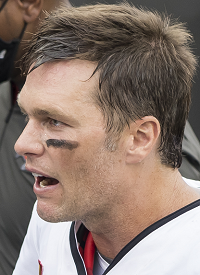 Joe was eager and intrigued to hear ousted Texans coach/GM Bill O'Brien weigh in on Tom Brady and the Bucs this week for two major reasons: he coached Brady in New England, and he coached against the Chiefs before getting fired in October.
Also, O'Brien was tasked by SiriusXM NFL Radio to do a deep dive for a Bucs-Rams preview, so Joe knew O'Brien was extremely familiar with all things Tampa Bay.
First, Joe will get the hot-topic out of the way. O'Brien does not think Tom Brady has any issues with his arm and throwing deep. He believes it's all about timing nuances that haven't been honed, and O'Brien says those are on both receivers and Brady.
Does O'Brien think the Bucs will make changes to get away from the deep ball? He's confident Bucco Bruce Arians will be patient but realistic.
"I don't think he's going to continue to try and force it if it's not working," O'Brien said.
Interestingly, O'Brien noted how poor Brady's timing has been with receivers out of the backfield, and their questionable hands. That could be a factor the playcalling and on-field decisions.
As for the Bucs' top key on Sunday, O'Brien kept that simple: run the football.
He noted the Bucs' inconsistent blocking, especially on "duo" runs that find double teams for the offensive line to exploit. O'Brien likes the diversity in the Bucs' run game but said they must be more consistent and dial in on a couple of run plays that will be effective against Kansas City. (Ira Kaufman calls them "bread and butter" runs.)
Expect the Bucs to be ready Sunday to go for it on fourth down often in an effort to keep Patrick Mahomes off the field, O'Brien said.
On defense, O'Brien believes Todd Bowles must make hard decisions — and that might meant not going all-in to stop the run like the Bucs often do. For O'Brien, defensive keys are limiting tight end Travis Kelce and wide receiver Tyreek Hill.
"Those are the guys that initially you gotta figure out, 'Can you bang Kelce at the line of scrimmage? Can you double Hill and then hold up in the run game?'" O'Brien said. "You have to pick your poison."
Kelce has to be hit at the line of scrimmage to cover him effectively, O'Brien believes, especially in the red zone. And he said the Bucs' other keys will be to stay disciplined and simplistic with multiple blitz and zone coverage looks.
Host Pat Kirwan and O'Brien also ranted about the Bucs edge rushers needing to stay on the edge and do everything to keep Mahomes in the pocket.