Todd Bowles Gets Outcoached
November 8th, 2020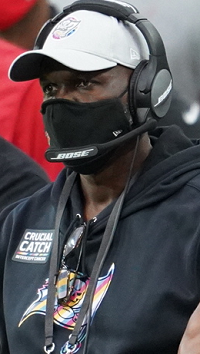 Todd Bowles' defense got exposed tonight. And a trend is emerging.
The Bucs lost in their second meetings against all NFC South opponents last season. Tonight they lost their second meeting against the Saints. And on Monday against Daniel Jones and the Giants, New York's young quarterback looked awfully comfortable against Bowles defense — one he had seen last season in Tampa.
It hasn't happened often this season, but Bowles got outcoached against the Saints in a bad way. And Joe really didn't like the defense's collective effort at times in the second half.
Through much of this season, when the Bucs play zone defense, they have had struggles. And that was on full display tonight with Drew Brees finding all kinds of soft spots across the defense. For the first time in forever, no Bucs cornerback registered a pass defense (at least not with five minutes to play as Joe types this.)
It's back to the laboratory for Bowles. Being a defensive coordinator is all about adjustments, so this is part of the job description.
Hopefully, Bowles is up for the task. The Bucs need that defense humming to cover for an offense that's looking awfully average all of a sudden.