"That's A Decent Football Team"
November 12th, 2020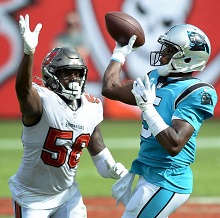 Sunday's opponent, the Panthers, are an unpredictable bunch.
They lost their superstar during Week 2 and proceeded to win three in a row without him before losing four in a row.
That's rare in any NFL season.
The superstar is running back Christian McCaffrey, and he returned last week but it didn't push the Panthers into the "W" column. And now McCaffrey is out. (Thank you, football gods!)
So how good or bad are the Panthers at 3-6? It's an interesting question and one former NFL QB and current SiriusXM NFL Radio host Brady Quinn took on this week.
"[The Panthers] are kind of into that Bengals and Chargers category, where that's a team that's been really competitive this year. I don't know that they're necessarily that much better than their record, but that's a decent football team," Quinn said.
For those wondering, the Bengals and Chargers each have two wins while Carolina has three. Of course, the Bengals and Chargers have rookie quarterbacks while the Panthers have a veteran and former Pro Bowler in Teddy Bridgewater. They're all bad teams still figuring out what really matters in the NFL, which is winning.
If the Bucs are anything close to what Joe hopes they are, they must beat the Panthers on Sunday. There's no other way to say it. If the Bucs fall to 6-4 with three division losses, well, then they're probably a year away from realistic Super Bowl dreams and possibly on their way to a season that will disappoint much of the fan base.
Go fight like hell and win it, Bucs!