"Pretty Darn Crisp Football Game"
November 21st, 2020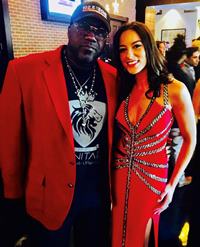 A former Bucs player was pretty darn happy with what he saw from the team in Charlotte last Sunday.
Whether the Bucs build from that impressive win or collapse, former Bucs guard Ian Beckles isn't sure. As always, he took to his podcast "In the Trenches" to offer his thoughts.
Beckles was very glad the Bucs didn't lose and then blame the loss on the plane fiasco getting them to North Carolina.
"They got to the hotel around midnight, didn't get much sleep, blah, blah, blah, blah," Beckles said. "Tony Dungy taught me nobody cares, OK, about what you are going through. You have to deal with a little bit of adversity.

"It was a pretty darn crisp football game."
Despite the win and running back Ronald Jones setting a franchise record with a 98-yard touchdown, Beckles said he's still not overly impressed with RoJo.
"I don't know what to think of RoJo," Beckles said. "You can't put the ball on the ground. Not on a consistent basis. I do not think he is a special running back. He had a special game.

"I am OK with RoJo being our running back. I just don't think he is special. I think he is as special as the line is in front of him. What does he do well? I don't know what the answer is."
Other observations Beckles had watching the win over Carolina:
* Beckles is beginning to grow concerned over the welfare of left guard Ali Marpet, who has been in concussion protocol for two weeks and after appearing to have a setback last night, may miss a third-straight game.
"I am starting to worry about Ali Marpet a little bit. I know Ali a little bit. I got to meet him the last couple of offseasons. Nice kid. Great football player. But when you start talking about linemen missing games for their noggin, you have to start getting a little bit worried. You don't see that too often. You see receivers and you see running backs but you don't see linemen too much. I'm hoping Ali Marpet feels better."
* On Ryan Jensen's first game at guard for the Bucs.
"Jensen did a pretty good job filling in at left guard. And he had a pretty key block on that 98-yard run. We did OK despite not having Ali Marpet in there. I would like to see Ali in there going forward. I think he is our best lineman."
* Beckles absolutely loves rookie right tackle Tristan Wirfs.
"Tristan Wirfs, I don't know if he's not playing Pro Bowl football. I'm not sure. I don't watch a whole lot of everybody else's games. Tristan Wirfs is almost invisible and that is the best thing you can say about a lineman. I don't hear his name at all. I mean once in a while with a good block — and that's a good thing. Tristan Wirfs is fantastic right now. Great, great, great, great pick. Good for you Jason Licht."
* On how Bucs AC/DC-loving general manager Jason Licht should not cave to the cries and foot-stomping of loud Bucs fans and keep left tackle Donovan Smith for next year and perhaps beyond.
"I find myself defending Donovan Smith a lot, OK. Am I going to sit here and say I think Donovan Smith is a great football player? I don't, though I think Donovan Smith is an NFL left tackle. I do. The second we get rid of him someone is going to scoop him up, OK? Donovan Smith has probably four clunkers a year. And the other 12, he plays OK. He's been OK this year. And he has been around so long that when he does have one or two bad plays, from a left tackle and a left tackle is going against the best rusher usually every single week because that's a QB's blindside, we all know that. But listen, Donovan Smith is an NFL left tackle. And there is not a lot of them out there. A lot of fans and media want to get rid of this guy — 'Get rid of Donovan Smith!' Alright. Watch what you ask for. Watch what you ask for. You get rid of Donovan Smith, all of a sudden you don't know what's out there. Other than grooming somebody and you know who doesn't want to groom somebody? Tom Brady. Tom Brady has been pretty frickin' clean now."
* On spreading the ball around to all receivers:
"Mike Evans had the most targets. Antonio Brown had the most catches. Chris Godwin had the most yards. Here we go. It's not always going to work that way. But if it does work that way more often than not, we are going to be OK."
* On defense:
"I thought we played fantastic in the second half. Got after [Teddy] Bridgewater a little bit. … When [an opponent] attempts 24 passes and you [give up] 136 passing yards, that's efficient defense."
* On Jamel Dean:
"You've got Jamel Dean running around almost sometimes like a chicken with his head cut off and doesn't quite understand the coverage or, I don't know. At times, he seems to be three steps behind. … It will get us in trouble again because that is on film."
* On the run game:
"Don't stop. Don't stop! Don't stop running the football. You see what happens when you run the football more? You score more points. If you don't run the football at all, you score three points. It's not rocket science. Everybody is happier. Everybody eats. … Even receivers want to run the ball because it makes their job easier."
* Beckles thought this could be a springboard game but there are no more easy wins on the schedule from here on out.
"That's a game to build on, offensively and defensively. … There isn't a game the rest of the schedule where you go, 'Welp, you can't pencil in a win.'"
As always, Beckles welcomes feedback and encourages listeners to submit Bucs questions by e-mailing him at [email protected].