Playoff Percentages
November 20th, 2020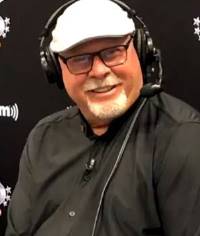 Just by judging various models (no, not *that* kind), it seems as we stand just days before Thanksgiving and hours before the Bucs play their 11th game of the season, there's a damn good chance the Bucs will play a meaningful football game in January.
John Breech used software designed and/or bought by CBS to run the numbers on the Bucs' chances of a playoff berth.
Unless the Buccaneers have a total meltdown, the computer sees them landing in the fifth spot and that's because they don't have a great shot of winning the division (17.5% chance), but the computer does view them as a near lock to make the postseason (84.6% chance).
Joe also checked PlayoffStatus.com. It has the Bucs with an 86 percent chance of a playoff berth, a 54 percent chance of getting to the second round and a 13 percent chance of reaching the Super Bowl.
FootballOutsiders.com is a bit more kind. They have the Bucs with a 94.4 percent shot of the playoffs.
The website FiveThirtyEight.com, which is a full-blown numbers site, isn't as kind, with the Bucs' shot at 87 percent.
All in all, on the last Friday before Thanksgiving, most data is very bullish on the Bucs making the playoffs.