Make Your Playoff Plans
November 25th, 2020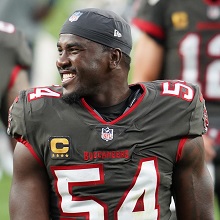 The math is real, and the Bucs are in prime, prime position to make the playoffs for the first time since the 2007 season.
Joe's got numbers, including ESPN now putting the Bucs with a 92.5 percent shot at postseason action.
The reason is simple. The Bucs' (7-4) currently own the second of three NFC wild card spots, if the season ended today. Arizona (6-4) has the third position and the sinking Bears (5-5) are the team knocking on the door hoping for a late run. So the Bucs have a two-game lead with five games to play.
Joe's favorite stat nerds at FootballOutsiders.com place the Bucs' chances of playoff fun at 92.1 percent.
Their software has the Bucs finishing with 10.6 wins and the Bears with 8.2. Football Outsiders also pegs the Bucs as most likely to score the second Wild Card position, which probably would mean a trip to Green Bay or to the NFC West winner.
The data hounds at FiveThirtyEight show the Bucs at an 85 percent shot at the postseason, two points better than the Cardinals.
Of course, to get there the Bucs still must win games, at least victories against the miserable Falcons twice and the bumbling Lions.