Lavonte David Talks "Pissed" Bucs, "Pressing" Bucs
November 9th, 2020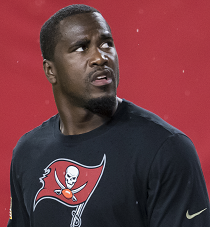 About that mess last night on Sunday Night Football, Buccaneers captain Lavonte David weighed in this afternoon.
The longest tenured Buccaneer said it was a "humbling" night and openly suspected the Bucs reacting to an "unfamiliar situation." Joe presumes that means a huge game on national television.
"Everybody was just pressing to be perfect," David said.
As for his teammates, David spoke about their current mindset after a 38-3 humiliation to the Saints.
"Guys were pissed," David said. "You seen it on the sidelines, you seen it today [and] you seen it after the game.

"Guys were pissed because we know we're not that type of team, especially against a team who we obviously wanted to really beat. And then go out there and put on a show like that on Sunday night – you know, guys feel some type of way about it. All you can do is move on from it. It'll show how we prevail from it this week. Like I said, you know, we're focusing on the Carolina Panthers right now; they're a pretty good football team with some talented weapons. So a lot of guys took it to heart yesterday and we came in today, and the good thing about it is I didn't have to go to nobody. Guys were coming to me, you know, 'That's unacceptable. We can't have [a] performance like that again. We gotta find a way to get better.' That's going to start this upcoming week and I'm really excited to get to work this week, move on from last week and get back going."
Joe's glad the Bucs were upset. Joe's heard that in past years. Hopefully it means something this time around.
David complimented the Panthers, but the reality is they've lost four straight games and are reeling but battling. They're also a miserable 1-3 at home in Charlotte, where the Bucs will head on Sunday.